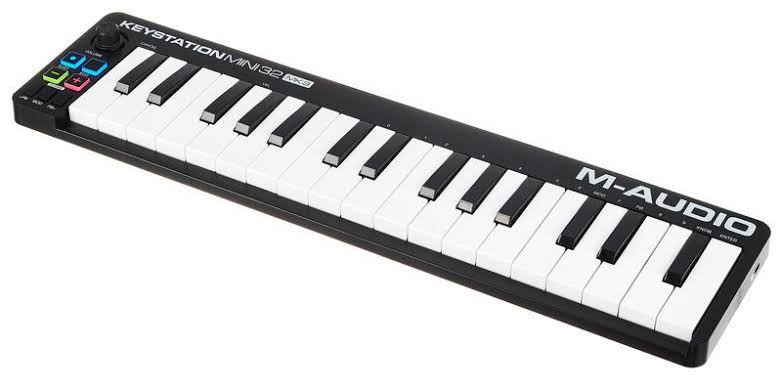 Best Midi Controllers for Producers on the Move
The excuse of being 'stuck in the studio' can be a poor one. For electronic music producers and DJs, portability is key to a successful career. For example do you remember the dancefloor killer 'Groovejet' by Spiller featuring Sophie Ellis Bextor? Well not only did it go to number one in 4 countries selling 600k in the UK alone, but also the track name comes from the fact the instrumental was made on a plane!
Calvin Harris, for example, can be found beavering away in first class on his MacBook Pro coming up with his latest track probably using a diamond-encrusted keyboard, but the question is…
Which midi controllers offer the best performance at a price that's right?
AKAI MPK Mini
What this lacks in keys it more than makes up for in functions. This features 8 drum pads, 8 assignable knobs and even an arpeggiator button to really mix it up. This awesome bit of kit will also neatly slip neatly into your hand luggage to ensure you don't spend the flight watching Mary Poppins.
CME XKey
This super slim 2-octave keyboard could almost fit into your back pocket. It features polyphonic after touch, which many midi keyboards don't, and is the perfect example of portability and functionality at a great price.
Korg microKey
More for the serious players, this won't fit snugly into your carry on bag but is worth the effort of carrying. Featuring 37 notes, the Korg MicroKey offers a more natural touch for experienced players who may want to use more than their index fingers to jam. This keyboard is not for David Guetta, even if his private jet fuelled by the souls of talented composers turning in their graves does have plenty of space for it.
M-Audio Keystation Mini 32
This simple, no frills or gimmicks 25-note midi keyboard is at the lower end of price spectrum, but don't let that put you off. This is the perfect device for on the road and comes in a sturdy package to withstand a few bumps along the way.
Alesis Q25
This awesome transportable keyboard may be a little bulky, but it does feature full sized keys for extra pleasure! It of course has 25 keys (it's in the name!), and features 5-pin midi output, super slick key action, plus pitch and modulation wheels.
Five fun sized keyboards that are fit for a king. Well, maybe more Prince, as he's also a super smooth pocket rocket! Just because you're not at home, it doesn't mean you can't be honing your production skills, so why not try one of these cost effective keyboards to take away the boredom on any flight.
For free tips, tricks and tutorials on how to master music and lots more, subscribe to our Youtube channel. For samples and other free give-aways, like us on Facebook and follow us on Twitter! Also, check out our Instagram and Garnish music production courses in London